RBR+TVBR InFOCUS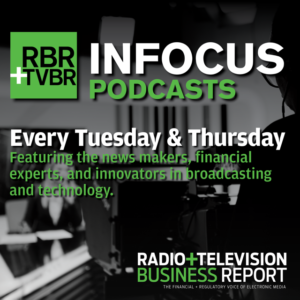 Foster Garvey attorney Brad Deutsch was invited to the RBR+TVBR InFOCUS Podcast to provide a detailed analysis on a series of significant events that have potential implications for the broadcast media industry.
During the 30-minute segment, Brad, alongside RBR+TVBR Editor-in-Chief Adam R. Jacobson, addressed various topics of interest to radio and television leaders. The conversation covered the future of the "Top Four Rule," potential implications for HD Radio, and the concept of "ZoneCasting," among other relevant issues.
The recent events in the capital, including the passing of Sen. Dianne Feinstein, the continued discourse on net neutrality, and the departure of Speaker of the U.S. House of Representatives Kevin McCarthy, were also examined in the context of their potential impact on the broadcast media sector.
Brad's participation in this episode offers a comprehensive look into the recent developments in Washington D.C. and their potential implications for the broadcast media industry. His insights are drawn from his extensive legal experience and deep knowledge of the interplay between policy and practice within the sector.
The RBR+TVBR InFOCUS Podcast serves as an informative platform for broadcast media professionals. It has evolved from its initial focus on the challenges posed by the COVID-19 pandemic to a broader examination of industry trends, regulatory changes, and technological advancements.
Find this podcast episode on Apple Podcasts as well as iHeart Radio.