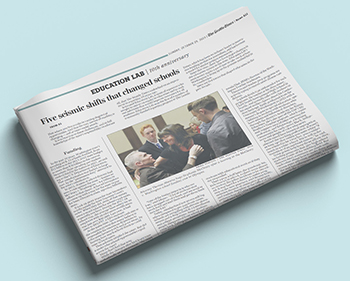 The Seattle Times' Education Lab recently published a compelling 10-year retrospective titled "Five seismic changes to education in Washington over the past decade." In this feature article, they shed light on a remarkable transformation in Washington State's education system, emphasizing the pivotal role played by the landmark McCleary v. Washington case.
Notably, state spending on K-12 schools surged, doubling to over $30 billion in the last decade, making Washington's per-student spending rank third nationwide. This significant shift in the educational landscape reflects the relentless pursuit of equitable education.
Foster Garvey attorney Thomas Ahearne served as a prominent figure in the McCleary case, championing the cause to compel the state to fulfill its "paramount duty" of providing equitable education. However, challenges still persist, as certain educational needs remain unmet, and local districts grapple with building upkeep costs. Nevertheless, this marks a notable step towards realizing a 21st-century education system.
Education Lab, a Seattle Times initiative, focuses on highlighting innovative solutions to enduring challenges in public education. Supported by a grant from the Bill & Melinda Gates Foundation and sponsored by The Seattle Foundation, Education Lab plays a crucial role in shaping the discourse around education.
For an in-depth exploration of the transformative journey Washington's education landscape has undergone in recent years, click here to read the full article.