Foster Garvey Newsroom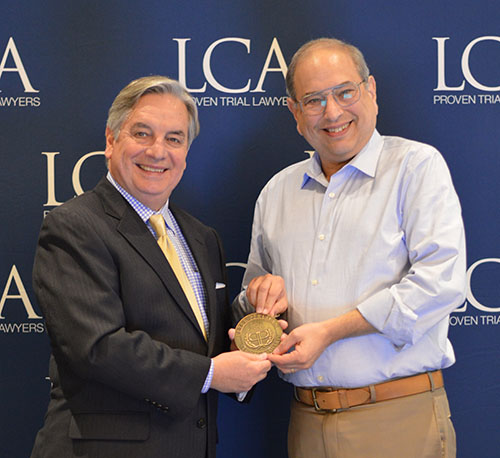 New York, NY, November 13, 2018 – Garvey Schubert Barer (GSB) principal Andrew J. Goodman was named a 2018 recipient of the Peter Perlman Service Award, which recognizes Litigation Counsel of America (LCA) Fellows who contribute in meaningful ways to society by giving back their time and resources in an effort to improve the lives of others. Andrew was presented with this honor by G. Steven Henry, LCA Executive Director and General Counsel, at LCA's Fall Conference & Celebration of Fellows held in Newport, Rhode Island, on October 24-26, 2018.
Some of Andrew's notable contributions leading to his selection include litigating campaign finance issues through Free Speech for People, participating in and drafting amicus briefs on campaign finance funding, and serving on the amicus committee of the Religious Action Center of the Union of Reform Judaism (URJ). Andrew is former president of the Scarsdale (NY) Synagogue/Tremont Temple. He also served as president of the URJ's Greater New York Council and later as chair of the URJ's East District. Additionally, Andrew is a member of the Advisory Board for NYU's Pre-Law Lawyer Alumni Mentoring Program.
Andrew currently serves as chair of the LCA's International Academy of Alternative Dispute Resolution, after having served as the Institute's vice-chair for Arbitration. He also previously chaired the Alternative Dispute Resolution Initiative for Globalaw, the worldwide network of independent law firms of which GSB is a member.
Read the full LCA press release.
About GSB
Since its founding in 1966, GSB has provided results-oriented legal counsel to help clients – from established market leaders, to newly launched enterprises and governmental bodies – solve problems, create new opportunities and mitigate risk. The firm takes a holistic approach to managing clients' needs, with attorneys who possess deep industry experience and a thorough understanding of current and emerging issues. GSB has offices in Seattle, Portland, Washington, D.C., New York, and Beijing. More information is available on the web at www.gsblaw.com.