BEA Thought Leadership Series (BEATLS)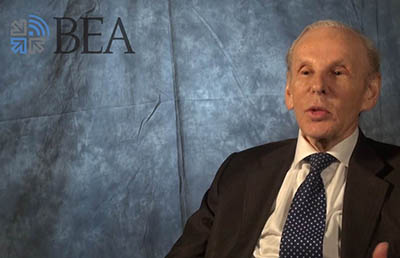 In this Broadcast Education Association (BEA) Thought Leadership Series interview focused on Law & Policy, Erwin Krasnow discusses his education, background and career, as well as current issues involving telecommunication policy.
Watch his interview now on BEA's Vimeo channel.
Based in GSB's Washington, D.C. office, Erwin focuses his practice in media property transactions. He has been involved in transactions valued at $21 billion in aggregate. Legal Times has described him as "a dean of the Washington communications bar."
Erwin is a past recipient of BEA's Distinguished Education Service Award, which is awarded to an individual who has made a significant and lasting contribution to the American system of electronic media education by virtue of a singular achievement or continuing service for or in behalf of electronic media education.
The BEA Thought Leadership Series, also known as BEATLS, introduces faculty and students to influential and/or historical figures in the media industry. The interviews aim to explore each professional's background, career path, and day to day responsibilities as well as highlight industry trends.