Portland Business Journal
These elements of tax reform will either drive, hinder or alter deals this year, according to Larry J. Brant and Steven D. Nofziger of Garvey Schubert Barer.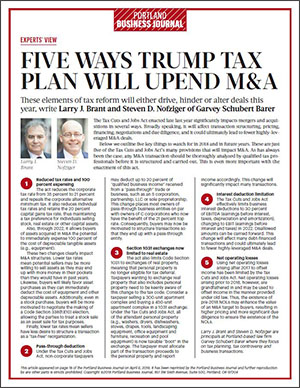 The Tax Cuts and Jobs Act enacted late last year, significantly impacts mergers and acquisitions in several ways. Broadly speaking, it will affect transaction structuring, pricing, financing, negotiations and due diligence, and it could ultimately lead to fewer highly-leveraged M&A deals.
Below we outline five key things to watch for in 2018 and in future years. These are just five of the Tax Cuts and Jobs Act's many provisions that will impact M&A. As has always been the case, any M&A transaction should be thoroughly analyzed by qualified tax professionals before it is structured and carried out. This is even more important with the enactment of this act.
Download the full article in the Portland Business Journal.
An extended analysis of this topic can be found on Larry's Tax Law.